SATURDAY MATINÉE, NOVEMBER 13AT THE DAWN OF FILM NOIR
THE LOVERS OF MIDNIGHT / LES AMOURS DE MINUIT 1:30

A cabaret singer is caught between her on-the-run criminal boyfriend and a handsome bumbler whose wad of stolen cash is putting him danger of being "taken for a ride." Daniele Parola is a screwball Dietrich in this darkly comic blueprint for the French film noir on the brink of being born. U.S. PREMIERE
(1931) 109 mins. Directed by Augusto Genina and Marc Allégret. Scenario by Augusto Genina, Georges Neveux & Carl Behr from an original story by Georg C. Klaren & Maurice Krol. Dialogue by Paul Bringuier. Photographed by Roger Hubert (Les enfants du paradis). With Danièle Parola, Pierre Batcheff, Louis Zallas, Josseline Gael, Jacques Varennes.
SATURDAY MATINÉE, NOVEMBER 13
IN THE NAME OF THE LAW / AU NOM DE LA LOI 3:45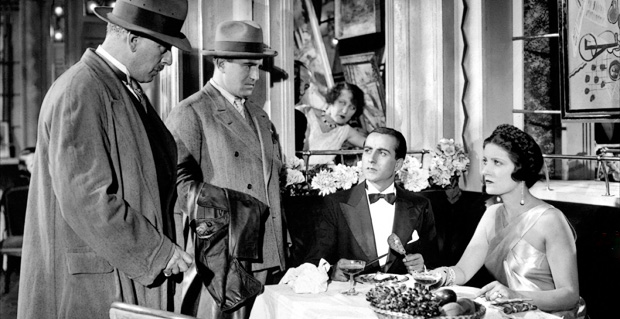 The first French policier, with a dreamy, druggy femme fatale (is it the opium that makes Marcelle Chantal so elegant?) and a dogged detective (Charles Vanel) looking to prevent a young cop from becoming her next victim.
(1932) 83 mins. Dir. Maurice Tourneur. Edited by Jacques Tourneur. Adaptation by Paul Bringuier and Maurice Tourneur from the novel by Paul Bringuier. Photographed by Georges Benoît and Marc Bujard. With Marcelle Chantal, Régine Dancourt, Gabriel Gabrio, Jean Marchat, Jean Dax.