SATURDAY EVENING, NOVEMBER 13 THE BEST OF '65!
THE SLEEPING CAR MURDERS / COMPARTIMENT TUEURS 6:30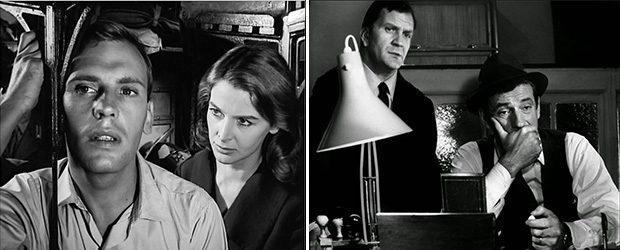 The discovery of a dead woman in a sleeping compartment triggers a chain reaction of death around Paris; a harried detective (Yves Montand) tries furiously to stop the mounting body count and must guess that the young man he sends as bait (Jacques Perrin) is not the killer himself.
(1965) 95min. Directed by Costa-Gavras. Adaptation by Costa-Gavras & Sébastien Japrisot from the novel by Sébastien Japrisot. Photographed by Jean Tournier. Edited by Christian Gaudin. Music by Michel Magne. With Catherine Allégret, Jacques Perrin, Yves Montand, Simone Signoret, Michel Piccoli, Claude Mann, Jean-Louis Trintignant, Pierre Mondy, Bernadette Lafont, Nadine Alari, André Valmy
SATURDAY EVENING, NOVEMBER 13
TRAP FOR CINDERELLA / PIÈGE POUR CENDRILLON 8:30

A triple role allows the true acting chops of "sex kitten" Dany Carrel to fully emerge as she plays a woman recovering from serious injuries who is unsure which of two women she is, both of whom were involved in a complex swindle that went horribly awry. Sex, greed, cruelty, and suffering saturate the screen in this long-lost mid-60s mindbender!
(1965) 115 mins. Dir. André Cayatte. Edited by Jacques Tourneur. Based on the novel by Paul Bringuier. Photography by Armand Thirard. Music by Louiguy. With Dany Carrell, Madeleine Robinson, Jean Gaven, Hubert Noel, René Dary.