SUNDAY MATINEE, NOV 6, 2016 1960s "ART-NOIR" AND THE "LOST BOYS" OF THE NOUVELLE VAGUE
THE DENUNCIATION / LA DÉNONCIATION 1:30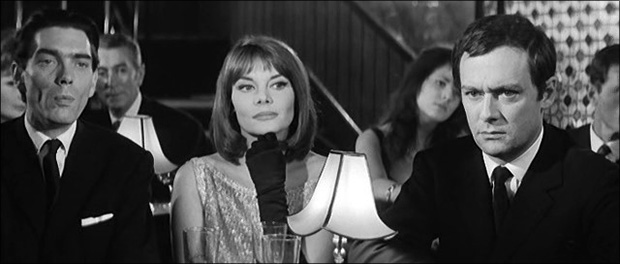 The son of an aristocrat, director Doniol-Valcroze was the co-founder of Cahiers du cinema in 1951. He was initially reluctant to print François Truffaut's incendiary article "On Certain Tendencies of French Cinema" in 1954, and kept his distance from the "young turks" as he angled for his own career behind the camera. More aligned aesthetically with Louis Malle, he would borrow Malle's cinematographer (Henri Raichi, Zazie dans le métro) and his favorite actor (Maurice Ronet, Elevator to the Gallows) when it came time to make this brooding "conspiracy of memory" noir, La Dénonciation.
Starting out in typical noir fashion when Ronet finds a murdered corpse in a strip club, the film veers into even darker territory via intricate flashbacks, exploring memories of wartime betrayal, and the rise of shadowy extremist groups, all pointing to a slowly enveloping peril as Ronet's character tries to solve the murder. In terms of where 60s noir might have gone, The Denunciation/La denonciation is a most interesting "road not taken." With Maurice Ronet, Françoise Brion, Nicole Berger.
Dir. Jacques Doniol-Valcroze (1962, 105 min.) Screenplay by Jacques Doniol-Valcroze. Photographed by Henri Raichi. With Maurice Ronet, Françoise Brion, Nicole Berge r.
DARK JOURNEY / LÉVIATHAN 3:30
Léonard Keigel was the "anti-Truffaut." Both were precocious teenage cinephiles in post-war France. Keigel helped secure his hero Jean Cocteau's participation in Objectif49, the "Cinema Club" that organized the legendary 1949 Festival du Film Maudit in Biarritz, an event that paved the way for the creation of the Cahiers du Cinema. While Truffaut quickly became the publication's most polemical contributor, Keigel's association proved fleeting. After several false starts in his creative career, he joined novelist Julien Green's circle, which included Louis Jourdan's producer brother, Pierre.
This was the genesis for the adaptation of Green's 1929 novel The Dark Journey, a luridly literary tale of provincial decadence and multi-faceted sexual obsession. Léviathan transfers Green's story to the present day, with Louis Jourdan jettisoning his usual persona as an ice-cold lothario in order to give the riskiest performance of his career as a man buffeted by a maelstrom of desire. Arguably the first "art-noir," Léviathan is a kind of template for the tales of twisted obsession that have proliferated in arthouse cinema ever since. Three superb actresses (Lilli Palmer, Madeleine Robinson, Marie Laforêt) match Jourdan every step of the way, and photographer Nicolas Hayer (Le Corbeau, Panique, Orphée) provides a precipitous visual trajectory that reveals the strange (and ultimately tragic) psychology of the characters. With Louis Jourdan, Lilli Palmer, Madeleine Robinson, Marie Laforêt.
Dir. Léonard Keigel (1962, 98min.) Screenplay by Julien Green, René Gérard & Léonard Keigel from the novel by Julien Green. Photographed by Nicolas Hayer.