"MAD MEN" BRING MID-MAD 2022 TO A FRENETIC FINISH!
TICKETS ON SALE NOW for the final 2022 installment of MIDCENTURY MADNESS, featuring four films that take a wide-ranging look at flawed masculinity—examined by two expert purveyors of "men behaving badly"—Italian director Elio Petri on Saturday, September 24, and Mexican actor Arturo de Córdova on Sunday, September 25.
Petri (1929-1982) is remembered almost exclusively for INVESTIGATION OF A CITIZEN ABOVE SUSPICION, his 1970 film that earmarked him as a kind of Italian counterpart of Costa-Gavras. But there is much more to his oeuvre to discover. THE ASSASSIN (1961) takes the tricks turned by Godard in BREATHLESS and gives them ironic resonance, anchored by a masterful performance from Marcello Mastroianni as an antiques dealer-cum-gigolo who suddenly finds himself accused of murdering his wealthy mistress (Micheline Presle).
In HIS DAYS ARE NUMBERED (1962), Salvo Randone (the wily, world-weary cop from THE ASSASSIN) creates a fascinating character living through a mid-life crisis that stems from seeing a man his own age turn up dead on a bus in downtown Rome. Will his recognition of life's random ironies transform him, or will he discover that the desperation he suddenly sees around him is impossible to comprehend?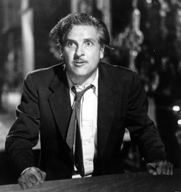 For nearly four decades, Mexican actor Arturo de Córdova was a bankable star on "the Latin circuit" (Spain, Mexico, Argentina). His strong intimations of obsession, jealousy, and madness were his calling cards in an on-screen persona that captured seemingly infinite gradations of masculine excess. In RED FISH (Spain, 1955) and THE MAN WITHOUT A FACE (Mexico, 1950) he plays mama's boys driven to fantasy and fabrication that border on the supernatural.
Both films are gloriously overwrought and riddled with flashbacks, demonstrating that the narrative virus of film noir was even more potent (and downright delirious!) in the hands of international directors. Come see why the "latin circuit" anointed de Córdova as their "go-to guy" for toxic masculinity!
FRENCH '22 PASS SALES BEGIN SEPTEMBER 22!
As promised to our faithful MID/MAD "film club," advance sales of festival passes for THE FRENCH HAD A NAME FOR IT '22, the ninth installment in our game-changing "lost continent of French noir" series, will be live on-line on September 22.

It's a 15-film series, screening over two adjacent weekends. Sunday-Monday, November 6-7, followed by Saturday-Sunday, November 12-13.
For full details about the films in FRENCH '22, join our mailing list and receive an email with all the salient info. Eleven of the fifteen films are new to the festival; the four being reprised honor past favorites, including films starring Jean Gabin, Robert Hossein, and Mylene Demongeot.
Mailing list members will receive an alert on September 22 to provide them with a heads-up for purchasing festival passes. Those attending our final MID/MAD installments on September 24-25 can purchase and/or pick up passes in person!
Watch for additional updates on Facebook and Twitter.
MIDCENTURY MADNESS '22
FEBRUARY-APRIL 2022
SUN, FEB 20

Simenon

MONSIEUR LA SOURIS
MIDNIGHT IN PARIS
(1942) France
dir. Georges Lacombe


TEMPTATION HARBOUR
(1947) UK
dir. Lance Comfort
SAT, MAR 12

Embrace "vehicular noir"

PLUNDER ROAD
(1957) USA
dir. Hubert Cornfield

H-8...
(1958) Yugoslavia
dir. Nikola Tanhofer
SUN, MARCH 13

Rare, superb German noir!

EPILOG
(1950) West Germany
dir. Helmut Kautner

VIELE KAMAN VORBEI
MANY PASSED BY
(1956) West Germany
dir. Peter Pawas
SAT, APRIL 2

Jacqueline Audry

OLIVIA
(1951) France
dir. Jacqueline Audry
LES PETITS MATINS
HITCH-HIKE
(1962) France
dir. Jacqueline Audry
SUN, APR 3

Incendiary "race movies"

THE INTRUDER
(1962) USA
dir. Roger Corman

NOTHING BUT A MAN
(1964) USA
dir. Michael Roemer
POSTPONED

Homage à Françoise Arnoul

LA CHATTE
THE FACE OF THE CAT
(1958) France
dir. Henri Decoin


LUCKY JO
(1964) France
dir. Michel Deville

JUNE-JULY 2022
SAT, JUN 18

Women in early 60s Japan

KUROI JÛNIN NO ONNA
TEN DARK WOMEN
(1960) Japan
dir. Kon Ichikawa


ZERO NO SHÔTEN
ZERO FOCUS
(1961) Japan
dir. Yoshitaro Nomura

SUN, JUN 19

Early Jean-Pierre Mocky

LES DRAGUEURS
THE CHASERS
(1959) France
dir. Jean-Pierre Mocky


LA GRANDE FROUSSE
THE BIG SCARE
(1964) France
dir. Jean-Pierre Mocky
SAT, JULY 9

Edgy Swedish "auteur" Arne Mattsson

MANNEKÄNG I RÖTT
MANNEQUIN IN RED
(1958) Sweden
dir. Arne Mattsson

VAXDOCKAN
THE DOLL
(1962) Sweden
dir. Arne Mattsson
SUN, JULY 10

Midcentury classics from Norway

DE DØDES TJERN
LAKE OF THE DEAD
(1958) Norway
dir. Kare Bergstrom

NI LIV
NINE LIVES
(1957) Norway
dir. Arne Skouen
SAT, JULY 30

Life and death in the end-state of war

KANAL
CANAL
(1957) Poland
dir. Andrzej Wajda

KOCÁR DO VÍDNE
CARRIAGE TO VIENNA
(1966) Czechoslovakia
dir. Karel Kachyna
SUN, JULY 31

Don Murray 93

SWEET LOVE, BITTER
(1967) USA
dir. Herbert Danska

BILLY BUDD
(1959) USA/TV
dir. Robert Mulligan
AUGUST-OCTOBER 2022
SAT, AUG 20

Frank Perry

THE SWIMMER
(1968) USA
dir. Frank Perry

LAST SUMMER
(1969) USA
dir. Frank Perry
SUN, AUG 21

Patrick McGoohan

LIFE FOR RUTH
(1962) UK
dir. Basil Dearden

THE QUARE FELLOW
(1962) UK
dir. Arthur Dreifuss
SAT, SEP 24

Early Elio Petri

L'ASSASSINO
THE ASSASSIN
(1961) Italy
dir. Elio Petri

I GIORNI CONTATI
HIS DAYS ARE NUMBERED
(1962) Italy
dir. Elio Petri
SUN, SEP 25

Arturo de Cordova.

LOS PECES ROJOS
RED FISH
(1955) Spain
dir. José Antonio Nieves Conde

EL HOMBRE SIN ROSTRO
THE MAN WITHOUT A FACE
(1950) Mexico
dir. Juan Bustillo Oro
POSTPONED

Rarities from master American playwrights

THE DARK AT THE TOP OF THE STAIRS
(1960) USA
dir. Delbert Mann


TEN BLOCKS ON THE CAMINO REAL
(1966) USA
dir. Jack Landau

POSTPONED

Robert Hossein's other genre!

LE GOUT DE LA VIOLENCE
THE TASTE OF VIOLENCE
(1961) France
dir. Robert Hossein


UNE CORDE, UN COLT
THE ROPE AND THE COLT
(1969) France
dir. Robert Hossein