FRIDAY, NOV 4, 2016REHABILITATIONS 1: CHRISTIAN-JACQUE
JOURNEY WITHOUT HOPE / VOYAGE SANS ESPOIR 7:30
Christian-Jaque adds propulsively flamboyant noir overtones to his remake of Augusto Gennina's 1931 melodrama Les amours de minuit. Two criminals, a novice (Marais) and a seasoned pro on the run (Bernard) meet on a train, and each winds up involved with the same woman (Renant) who wants to help one of them escape, but falls in love with the other. This is the darkest and most frenetic of all the noirs produced during the Occupation and it displays Christian-Jaque's filmmaking talents as they reach a new level in response to the ongoing chaos of war. With noir lighting to die for courtesy of cinematographer Robert Lefebvre (Casque D'Or). With Simone Renant, Jean Marais, Paul Bernard.
Dir. Christian-Jaque (1950, 85 min.) Screenplay/adaptation by Pierre Dumarchais, Marc-Gilbert Sauvajon & Christian-Jaque from a story by Georg C. Klaren & Maurice Krol. Photographed by Robert Lefebvre.
A LOVER'S RETURN / UN REVENANT 9:20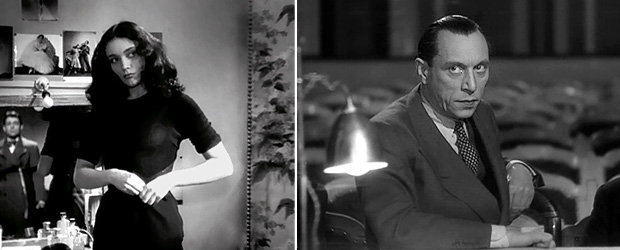 Louis Jouvet's return from wartime exile in South America was the catalyst for Christian-Jaque's simmering, sensational backstage revenge noir, featuring Jouvet at the height of his powers. The mechanics of his elaborate payback scheme are deliriously fascinating, as is the interaction between addled François Périer and ravishing Ludmilla Tcherina, the Russian ballerina who would achieve fame two years later as Moira Shearer's foil in The Red Shoes. Here, revenge is a dish that works at any temperature!
Dir. Christian-Jaque (1946, 100min.) Dialogue by Henri Jeanson; adaptation by Jeanson & Christian-Jaque. Photographed by Louis Page & Christian Matras