SUNDAY EVENING, NOV 17, 2019FLAWS IN THE OINTMENT
ANY NUMBER CAN WIN / MÈLODIE EN SOUS-SOL 6:15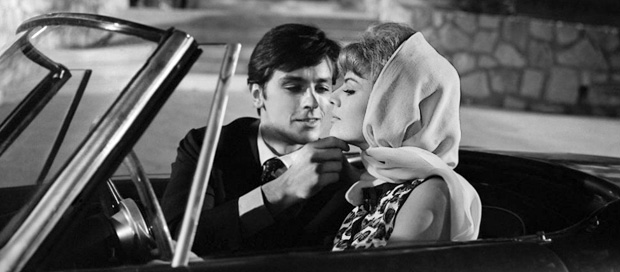 For Sunday night, we dust off France's great "Saturday night director" Henri Verneuil, as underrated as any of those whose careers began before the advent of the Nouvelle Vague. (Two of his fine 50s noirs, Les amants du Tage and Une manche et la belle, have already established his bonafides with FRENCH HAD A NAME FOR IT audiences.) Here he brings us the irresistible combination of Jean Gabin and Alain Delon as mismatched crooks plotting an elaborate casino heist. It is a delight in every detail, with cynical dialogue aplenty for Gabin and copious acrobatic action for Delon. Viva Verneuil!
(1963) 118min. Directed by Henri Verneuil. Adaptation by Albert Simonin. Dialogue by Michel Audiard. From the novel The Big Grab by Zekial Marko (as John Trinian). Photographed by Louis Page. Edited by Françoise Bonnot. Music by Michel Magne. With Jean Gabin, Alain Delon, Viviane Romance, Henri Virlojeux, Jose Luis de Villalonga, Dora Doll, Rita Cadillac, Jean Carmet.
THE END OF BELLE / LA MORT DE BELLE 8:45
Like Robert Hossein, Edouard Molinaro took hold of film noir as a template for experimentation in the late 50s and early 60s. Their tweaking of tonality and their attempts to invert the appropriation of noir into early Nouvelle Vague narratives were bound up in films that languished in obscurity for fifty years even as they managed to continue their careers. Both men ended their noir experiments with films dealing with the lingering effects of guilt (Hossein's Vampire de Dusseldorf, Molinaro's La mort de belle). Guilt, suspicion, and madness mingle in Molinaro's unsettling adaptation of a nervy Simenon roman dur, with a truly astonishing third-act transformation by Jean Desailly.
(1961) 96min. Directed by Edouard Molinaro. Scenario by Jean Anouilh from the novel by Georges Simenon. Photographed by Jean-Louis Picavet. Edited by Monique & Robert Isnardon. Music by Georges Delerue. With Jean Desailly, Alexandra Stewart, Monique Mélinand, Marc Cassot, Jacques Pierre, Yvette Etiévant.