SATURDAY MATINÉE, NOV 16, 2019RACE/WAR/SEX/CLASS
ONE DOES NOT BURY SUNDAY / ON N'ENTERRE PAS LE DIMANCHE 1:00
Among the most fascinating rediscoveries of THE FRENCH HAD A NAME FOR IT series, this film synthesizes the French approach to film noir and the emergent Nouvelle Vague in ways that go deeper than the Godard and Truffaut noir pastiches made in the same year. Gabonese actor Philippe Mory—one of the most handsome young men ever put on screen—plays a colonial student in Paris who becomes a celebrity via the gimmicks of an obnoxious French publisher. He hopes to settle down with his Swedish girlfriend (radiant beauty Christina Bendz, in her only screen appearance) but the publisher's wife (seductive, manipulative Hella Petri) disrupts their plans. Drach tells the tender but sordid story in flashback, draping his two young stars in camera angles that should have made them as iconic as Seberg and Belmondo: sixty years later, they (and Drach's meta-Godardian mise-en-scene) are ripe for resurrection.
(1960) 95min. Directed by Michel Drach. Dialogue by Michel Drach. Adaptation by Michel Drach & Eric Ollivier from the novel by Fred Kassak. Photographed by Jean Tournier. Edited by Geneviève Winding. Music by Kenny Clarke, Eric Dixon & James Campbell. With Philippe Mory, Christina Bendz, Hella Petri, Albert Gilou, Robert Lolliot, Marcel Cuvelier.
THE LITTLE SOLDIER / LE PETIT SOLDAT 3:00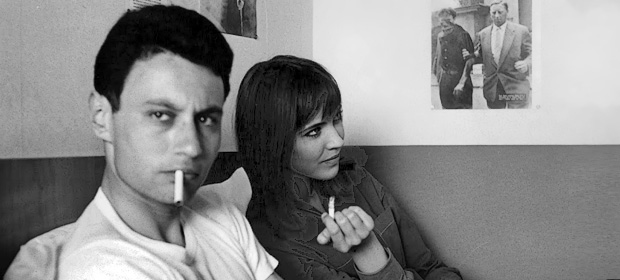 Banned for three years due to its scathing critigue of the Algerian war, LE PETIT SOLDAT captures a much more probing set of contradictions than Godard's overpraised debut. This tangled yet surprisingly taut tale of love and espionage is much more successful in colliding film noir with Godard's emerging vision of an altered cinematic language—and it introduces the iconic Anna Karina, in the first of her series of roles as an ultra-enigmatic beauty. To his great credit, Godard goes for the jugular with respect to the changing nature of war as embodied in the Algerian conflict, and his torture sequences here are not for the squeamish, even sixty years later.
(1963, filmed in 1960) 88min. Directed by Jean-Luc Godard. Scenario by Jean-Luc Godard. Photographed by Raoul Coutard. Edited by Agnès Guillemot, Lila Herman & Nadine Marquand. Music by Maurice Leroux. With Anna Karina, Michel Subor, Henri-Jacques Huet, Paul Beauvais, Laszlo Szabo.
LES ABYSSES 4:45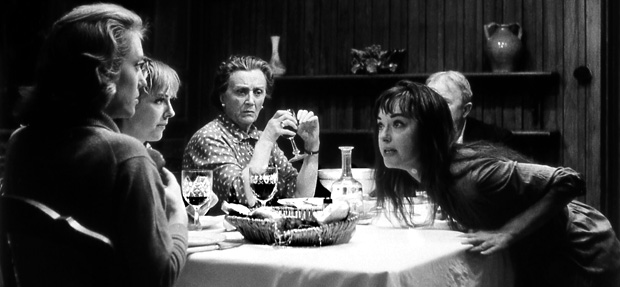 The infamous 1933 Papin Sisters murders are filtered through the dramatic cheesecloth of Jean Genet (long-time associate and would-be lover of director Nikos Papadakis) in this incendiary tale of two sisters (ferociously played by two real-life sisters, Francine and Colette Bergé) driven to madness, bestiality and revenge via years of mistreatment as the work-slaves of a decadent, rotted-from-within aristocratic family. The film created an uproar upon its release, with a wave of prominent French intellectuals taking up its cause: they eventually succeeded in getting the film shown at Cannes, where it received a tumultuously mixed reception.
(1963) 90min. Directed by Nikos Papatakis. Scenario by Jean Vauthier (with uncredited assistance from Louis Jouvet). Photographed by Jean-Michel Bossaguet. Edited by Edwige Bernard, Denise de Casablanca, Pascale Laverrière. Music by Pierre Barbaud. With Francine Bergé, Colette Bergé, Pascale de Boysson, Paul Bonifas, Colette Régis.