SATURDAY EVENING, NOV 16, 2019MONEY/BLOOD/MONEY
SYMPHONY FOR A MASSACRE / SYMPHONIE POUR UN MASSACRE 7:15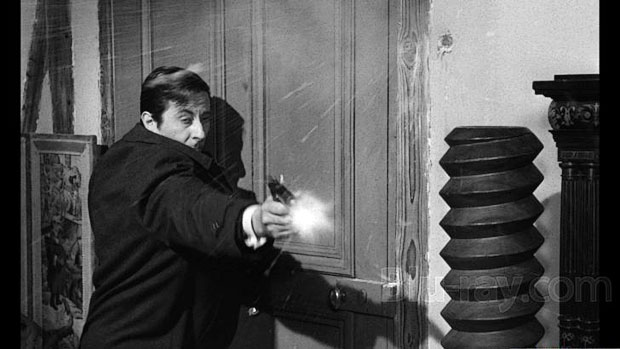 The "lure of the big score" haunts the protagonists, their wives and their mistresses in Jacques Deray's third film, a cold, sleek Parisian heist film that firmly shows his roots in French film noir. (Deray was Gilles Grangier's assistant director for nine years prior to beginning his long and distinguished career, including five of Grangier's collaborations with Jean Gabin.)
A character study in movements arranged like a musical work, Symphonie pour un massacre is a superb example of how the energy of French noir coalesced into larger, more ambitious works in the early 1960s. An ensemble cast led by major stars (Charles Vanel, Michel Auclair, Michele Mercier) play out the rhythmically escalating events of the film with passion and precision. And Michel Magne's music, matched with Mozart, is the perfect accompaniment to this deadly, tragic symphony of greed, desperation and betrayal.
(1963) 115min. Directed by Jacques Deray. Scenario by Claude Sautet, Jose Giovanni & Jacques Deray from the story Les Mystifies by Alain Reynaud-Fourton. Photographed by Claude Renoir. Edited by Paul Cayatte. Music by Michel Magne. With Charles Vanel, Jean Rochefort, Michel Auclair, Michele Mercier, Daniele Rocca, Claude Dauphin, Jose Giovanni.
THE FABIANI AFFAIR / HORACE 62 9:30
Charles Aznavour continued his migration into crime drama with this kinetic chronicling of a shocking "blood feud" between two Corsican families living in Paris. André Versini, a highly expressive character actor making his directorial debut here, explicitly had his actors underplay in the early scenes of this escalating tale in order that the audience might share viscerally in the real-time shock of how the feud goes from something removed from reality into a madness clutching at each man's throat. Alas, Versini's promising career behind the camera was truncated prematurely when he contracted leukemia and died at age 43 in 1966.
(1962) 95min. Directed by André Versini. Dialogue by André Versini. Adaptation by René Fallet & Jean-Paul le Chanois. Photographed by Marcel Grignon. Edited by Borys Lewin. Music by Paul Mauriat. With Charles Aznavour, Raymond Pellegrin, Jean-Louis Trintignant, Giovanna Raffi, Etienne Berry, Danielle Godet, Nerio Bernardi.