SUNDAY EVENING, NOV 8GINETE LECLERC
LE CORBEAU / THE RAVEN 6:15, 10:00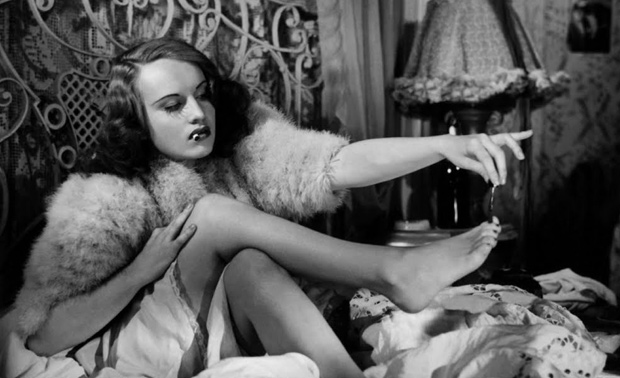 Clouzot would pay with a two-year suspension from the French Film Commission for this sordid tale of French provincial life under the Occupation, a kind of "noir allegory" where, as the late, great Internet film critic Bill MacVicar noted, "even the children…are sneaky and malicious."
The film serves as a wonderful introduction to a criminally underrated French actress, Ginette Leclerc, who fashions an amazing portrait of a crippled, hypochondriac sex goddess. (No surprise that Leclerc began her career as a model in racy French magazines…)
Built around Leclerc's unique "come hither" is a misanthropic look at a village that is nothing more or less than a nest of vipers—a Gallic Peyton Place…only much, much darker.
Pierre Fresnay, Ginette Leclerc. Dir. Henri-Georges Clouzot (1943, 92 min.)
LES EAUX TROUBLÉS / TROUBLED WATERS 8:00
Henri Calef, the protégé of Pierre Chenal (whose 1939 film LE DERNIER TOURNANT was the first film version of James M. Cain's The Postman Always Rings Twice), created something startling and unique with LES EAUX TROUBLÉS. Like UNE SE JOLIE PETIT PLAGE, it takes place on a remote part of the French seacoast, where the weather is (arguably) the lead character in the film.
Ginette Leclerc embodies all of the tensions of this remote village, with its backward, tribal ways—she endures all kinds of assaults, physical and emotional, as she attempts to discover the cause of her brother's death. She is surrounded by a gallery of grotesques…men who are haunted by the recognition that they are little better than wild beasts. LES EAUX TROUBLÉS is a one-of-a-kind French noir: hats off to Calef!
Ginette Leclerc, Jean Vilar, Marcel Mouloudji, Édouard Delmont. Dir. Henri Calef. (1949, 95 min.)