SATURDAY, JULY 12 — SPECIAL EXTENDED MATINEE
THE OUTCASTS "The Long Ride" NOON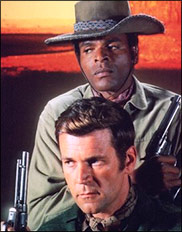 Don Murray, Otis Young, William Bassett, J. Pat O'Malley; directed by Robert Butler. (1969, 50 min.) Digital
This episode of THE OUTCASTS has it all—a nasty villain, the usual tense interactions between Earl (Don Murray) and Jemal (Otis Young), and a pulsating story with a suitably ironic ending. After you see it, you'll agree that THE OUTCASTS should be on DVD!
from UNSUNG HERO
"Don Murray on Otis Young" will precede the screening of THE OUTCASTS "The Long Ride." (5 mins) Digital
CALL ME BY MY RIGHTFUL NAME 1 PM
Don Murray, Otis Young, Cathy Lee Crosby, Kent Smith, Edith Atwater; directed by Michael Shurtleff. (1972, 90 mins) ★ New print to premiere at the Roxie.
EXCEPTIONALLY RARE! Don Murray wanted to make this film in 1962 opposite Sidney Poitier, but events conspired to quash those hopes. Ten years later, the story of a friendship between a black man and a white that's ruptured by a twist of fate invlving a young woman (Cathy Lee Crosby) offers a slightly altered message, one that bears re-examination in 2014.
→ DON MURRAY IN PERSON interviewed by his sons, Christopher and Michael
A MAN IS TEN FEET TALL 3:30 PM
Sidney Poitier, Don Murray, Martin Balsam, Hilda Simms, Michael Strong; directed by Robert Mulligan. (1955, 50 mins) Digital
RARE! From Don Murray's own personal copy, this Philco Playhouse Theatre episode was the basis for a fleshed-out, full-length motion picture, EDGE OF THE CITY (1957). Don plays a young man on the run who tries to hide from his troubles by working on the New York waterfront, where he is befriended by an ebullient black dockworker (Sidney Poitier). As their friendship grows, the racial tension on the dock intensifies. A rare classic from the golden age of live TV!
SWEET LOVE, BITTER 4:30 PM

Don Murray, Dick Gregory, Robert Hooks, Diane Varsi; directed by Herbert Danska. (1967, 92 mins) Digital
"A remarkable newly discovered film, virtually lost for over a quarter-century, one of the first dramatic films to honestly deal with jazz life... Quite possibly the best movie ever made about jazz."
—Francis Davis, Village Voice, Philadelphia Inquirer
A searing, poetic look at the underside of black jazz culture and the gap between the races, SWEET LOVE BITTER was damaged by its own producers, who took the film away from director Herb Danska and cut 20 minutes from the film prior to its release. Even in its mutilated state, however, the film features exceptional performances from Don, Robert Hooks, and (in a character based on tragic jazz great Charlie Parker) Dick Gregory, who's brilliant in his acting debut. With a bleakly beautiful jazz score composed by Mal Waldron. A one-of-a-kind film that packs as big of a punch in 2014 as it did when it was first (barely!) released.
→ INTERVIEW WITH DON MURRAY
SATURDAY NIGHT, JULY 12
ENDLESS LOVE 7:15
Don Murray, Shirley Knight, Brooke Shields, Martin Hewett, James Spader; directed by Franco Zefferelli. (1981, 120 mins) 35mm
Don Murray felt that this movie would reestablish him as a feature film actor, but the hue and cry from movie critics taking up the banner of the Reagan backlash surrounded ENDLESS LOVE (with its depiction of "illicit" teenage sex) with an unprecedented level of controversy. Come see what the fuss was all about, and take in one of Don's most astonishing character transformations—it's not for the squeamish!
→ INTERVIEW WITH DON MURRAY
THE CONFESSIONS OF TOM HARRIS 10:15 PM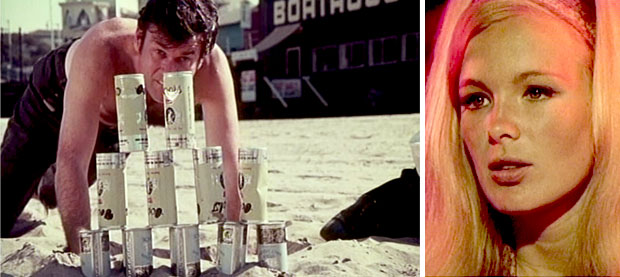 Don Murray, Linda Evans, David Brian; dir. by John Derek and David Nelson (1966-72, 94 mins) Digital
EXCEPTIONALLY RARE! Don Murray spent six years shaping and reshaping this film—an ambitious attempt to depict the spiritual awakening of a bad man. Casting himself against type, Murray attempts to prove that he can, indeed, play an anti-hero. Come see it and judge for yourself!
from UNSUNG HERO "Tom Harris: The Most Unforgettable Man…" An overview of Don Murray's project that "offended everyone" (9 min.) DIGITAL