FRIDAY, JULY 11

(1957) 7:30 PM

(1957) 9:45 PM

(1959) 11:30 PM
SATURDAY MATINEE, JULY 12
(1969) NOON

(1972) 1 PM

(1955) 3:30 PM

(1967) 4:30 PM
SATURDAY NIGHT, JULY 12

(1981)7:15 PM

(1967) 10:15 PM
San Francisco's Roxie Theater is located at 3117 16th St. and can be reached at 415.863.1087. Will-call tickets available through TicketMaster.
► Catch every one of the screenings with an ACCESS-ALL-SHOWS pass for $50!
SUNDAY MATINEE, JULY 13
(1973) NOON
(1976) 1 PM

(1961) 3 PM
SUNDAY NIGHT, JULY 13
(1962) 6:30 PM

(1956) 9:15 PM
MID-CENTURY PRODUCTIONS is a "boutique" programming venture designing "mini film festivals" featuring films from Hollywood's most explosive three decades—the 1940s, 1950s, and 1960s.
We program original festivals and work with organizations and individuals to craft singular programming that illuminates the hidden corners of these three decades.

DON MURRAY's the most unusual and least-remembered of the great actors who emerged in the Fifties. He played roles that other actors weren't willing to risk (a drug addict in HATFUL OF RAIN, a closeted gay senator in ADVISE AND CONSENT). He fought typecasting in Hollywood even as he worked tirelessly to solve the lingering problems for European refugees still living in camps more than a decade after WWII. He broke out as an independent filmmaker with THE HOODLUM PRIEST, but found his vision for similar projects thwarted by the changes that swept over Hollywood and America in the Sixties. He has a lost body of work that is ripe for rediscovery. MORE.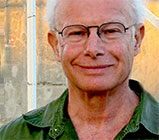 FOSTER HIRSCH wouldn't toot his own horn, but the Brooklyn College film professor, historian, and author of nearly two dozen books may just be the best film interviewer in the world. He is working on an epic look at 1950s film and it is no coincidence that the films he will be discussing with Don Murray were all shot in Cinemascope! MORE.
UNSUNG HERO Rough Cut Excerpt: THE BACHELOR PARTY (1957). A seven-minute mini-introduction to Don Murray's second film, where he plays a young New York City accountant harried by the need to "get ahead" and the unwelcome burden of impending parenthood. Seeking respite from his troubles, he goes out "with the boys" to celebrate the impending marriage of one of his office mates--and discovers a good bit more than he bargained for. Murray is supported by a great ensemble cast: Jack Warden, E.G. Marshall, Larry Blyden, Carolyn Jones, Patricia Smith, Philip Abbott, and Nancy Marchand. The film was directed by Delbert Mann, and features gorgeous black-and-white photography by Joe McDonald.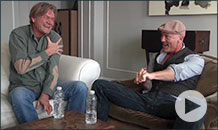 UNSUNG HERO Rough Cut Excerpt: THE PACIFIST AS PUGILIST. Don Murray was a conscientious objector during the Korean War, and nearly went to jail as a result of an overzealous draft board that questioned his motives. (He would win the case, and perform alternative service in Europe from 1953-55, which would have a profound influence on him.) Despite that legacy, Don has demonstrated a great deal of ability to use his fists (at least on-camera!) This three-minute set piece provides a humorous look at his pugilistic talents, including his hilarious retelling of an actual case of "pugilistic mistaken identity" that happened to him on the New York subway system in 1952. DON MURRAY UNSUNG HERO, A Midcentury Production, projected release late Fall 2014.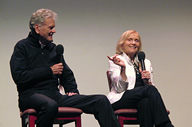 DON MURRAY TRIBUTE IN SANTA BARBARA. August 2011 brought together two joyful events: the 49th wedding anniversary of Don Murray and Bettie Johnson, and the screening of seven films from Don's criminally-neglected career. Old friend and HATFUL OF RAIN co-star Eva Marie Saint was on hand to share reminiscences about the little-known Fred Zinnemann classic and share the festive atmosphere at the Lobero Theatre in Santa Barbara. Matchless interviewer Foster Hirsch was the conduit for a uniquely stimulating discussion. The following day, five Don Murray films were screened at the Center Stage Theatre, including Don's personal favorite, THE HOODLUM PRIEST, and the film which earned him an Oscar nomination, BUS STOP.