REINTRODUCING DON MURRAY
DON MURRAY is unique among the 50s heartthrobs. He was a drop-dead serious actor from the age of 17, when he turned down college scholarships to enroll in the American Academy of Dramatic Arts. That was in the late 1940s. Don was born too late (1929) to serve in World War II, but Korea interrupted a career that might have taken off sooner. Like Lew Ayres and many others, Don didn't believe in war and served his nation by working in German and Italian refugee camps.This was one of the defining moments of his life, opening his eyes to the realities of the world, and changed the scope of his acting ambition.
When he returned to the US in 1955, things happened quickly for him. He won a role in the revival of The Skin of Our Teeth, and when director Joshua Logan (who'd wanted him to play the lead in Picnic on Broadway) saw him on stage, he knew he'd found the man to play opposite Marilyn Monroe in Bus Stop.

It was the role that made Don Murray a movie star, but it wasn't the type of acting that Don preferred. He resisted Fox Studios' attempts to typecast him and threw himself into a succession of projects that, oddly, are now all forgotten classics:
The Bachelor Party (1957), A Hatful of Rain (1957), For I Have Loved Strangers (1957, Playhouse 90), From Hell to Texas (1958), The Hasty Heart (1958, DuPont Theatre), Billy Budd (1959, DuPont Theatre), Shake Hands With The Devil (1959), Alas, Babylon (1960, Playhouse 90), The Hoodlum Priest (1961), Advise & Consent (1962).
No other "heartthrob" compiled anything remotely like that filmography in the first half-decade of his career.
Ironically, it may have been Don's insistence upon exploring every facet of his craft that made it difficult for him to retain the level of visibility that he'd initially achieved. If he'd done nothing more than the ten credits shown above, however, Don Murray should be enshrined as one of the finest actors of his generation. Don's career continued, of course. And it got more interesting—the Sixties were a very interesting time in this country. He seemed to delight in confounding people's expectations of what he'd be doing. But mostly it was simply that he wanted to expand his horizons. He found projects that pushed those horizons as far as possible. He moved into television, but applying the same principle, and his Sixties filmography is almost as impressive as his earlier work:
One Man's Way (1964), Baby The Rain Must Fall (1965), Sweet Love, Bitter (1967), The Borgia Stick (1967, TV movie), The Outcasts (1968, TV series), Daughter of the Mind (1969, TV movie), Childish Things (1969), The Intruders (1970, TV movie), The Cross and the Switchblade (1970, director), Happy Birthday, Wanda June (1971)
An even more intense and wide-ranging combination of projects characterized Don's work in this period. His fascination with religion and its impact on daily life had first surfaced in The Hoodlum Priest, and this continued with One Man's Way (where Don plays Dr. Norman Vincent Peale) and The Cross and the Switchblade (Don directs a film that showcases a topic oddly resonant in those times—how religion and religious ideas can heal the wounds of underprivileged and abandoned youth).
Don's interest in the issue of race relations comes to the fore in two of his finest but most currently obscure projects, Sweet Love, Bitter and The Outcasts. While their settings couldn't be any different (the former was shot on the streets in Philadelphia, while the latter was set in the American west circa 1870), the two films confront the difficult conditions that prevailed in American over issues of white vs. black. And though the form of each project is different—Sweet Love, Bitter is a moody "art" film, and The Outcasts is a rip-roaring adult western—the content is firmly linked around the question that Rodney King would still need to ask twenty-five years later: "Can't we all just get along?"
Don's foray into television movies were all top-flight scripts—if he was going to work in the medium that Newton Minow had called "a vast wasteland" (and if only he could see things today, with 500+ channels and still nothing on!), he would settle for nothing less. "The Borgia Stick" was not only good, it was extremely popular, garnering some of the highest ratings of the year and keeping Don's name in play in "TV land" for another decade. "Daughter of the Mind" was a haunting show, a vehicle for a series in which Don would play a parasychologist. He had many more such offers: by his estimate, he turned down ten times as many TV pilot offers as he made over that time frame.

It may have been Conquest of the Planet of the Apes (1972) that pushed things over the edge for Don. Though he's terrific as a villain in it, it may have made it harder for him to reestablish a career as a leading man. He made two efforts to counteract the dangers of such typecasting: Cotter (1973) and Deadly Hero (1975).
Deadly Hero is a worthy but sadly overlooked "neo-noir" in which Don plays a role that's as dark and disturbing as any he'd ever tackled. The reality of a life going off the rails is portrayed unflinchingly—we watch a middle-aged Don Murray expanding and elaborating on the acting skills he first brought to the big screen in A Hatful of Rain nearly twenty years earlier. Deadly Hero was ahead of the wave of such films that would establish a whole new generation of filmmakers (Francis Ford Coppola, Martin Scorsese), and didn't receive its due. Thirty-five years later, it is ripe for rediscovery.

Don continued to be in demand for character parts, and he gracefully transitioned into this career phase, turning in more miniaturized versions of his carefully etched characterizations. He continued to show his affinity for noir in the sci-fi/noir spoof Radioactive Dreams (1985), where he's just a bit too steely (sort of what Leslie Nielsen would have done if he'd been trained by the Method). And there were a number of chances for Don to stretch out, such as his Emmy-nominated portrayal of a schizophrenic in "My Dad Can't Be Crazy…Can He?" (1989).
Don has always been an independent filmmaker at heart. This sensibility may have worked against his natural good looks and mainstream appeal—as Janine Basinger suggests in The Star System, there are a set of fixed expectations for people with certain kinds of looks: it's risky if one tries to have the acorn fall too far from the tree.

His creativity continues, however. Just before his seventy-fifth birthday, Don had a tale told to him that was so incredible, so "truth is stranger than fiction," so viscerally exciting that it prompted him to assemble a team to film the story despite all the technical obstacles that it contained. The story of divers trapped in an underwater cave with their air supply slowly but surely running out on them would be entitled—fittingly enough—Breathe. Over the next three years, Don would travel to various ocean settings around the world to bring the story to life. And with the help of marine cinematographer Tom Campbell, Breathe (2007) possesses breath-taking high-def visuals that only make the story that much more compelling.
As a director, Don proves he is clearly a late-bloomer, and perhaps there will be more in the offing for him once people see how "with it" he continues to remain. Never sitting still, still possessed with a searching, restless intellect, Don Murray is younger than most men half his age, and still awaits further adventures. The sun will never set on this singular man, and we celebrate him and the life example he's given us.
The Bachelor Party (1957)
News about UNSUNG HERO, MidCentury Productions' documentary on Don Murray

In 2014 San Francisco's Roxie Theatre presented a retrospective of Don Murray's films. View the Special Weekend with Don Murray program.

FURTHER READING
Variety magazine's Dec. 31, 1961 review of Advise and Consent.
"Attitudes in Advise and Consent" — Robin Wood's 1962 essay. (PDF)
"A Patriotic Movie... or Not?"— Life Magazine looks at Advise and Consent.
Bosley Crowther's 1957 review of A Hatful of Rain in the New York Times,
Debra Levine quotes Don Murray on how he "handled" Marilyn Monroe during the filming of Bus Stop. (Huffington Post)
The Making of The Hoodlum Priest, Don Murray's first independent production.
Variety magazine article on Don Murray, The Outcasts, and the Murray family's effort to save his Goleta home from the 2008 "Tea fire"
Advise and Consent (1962)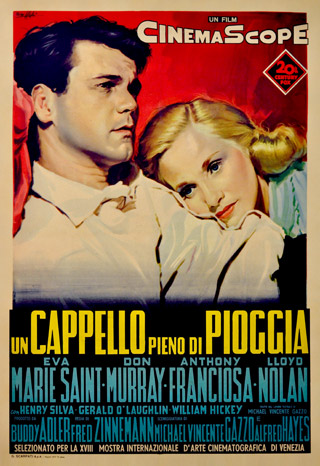 A Hatful of Rain (1957)
Le Mal de Vivre / The Hoodlum Priest (1961)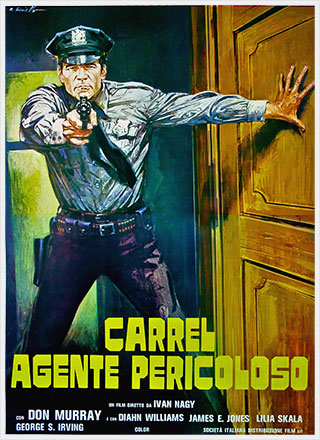 Carrel Agente Pericoloso / Deadly Hero (1975)